Welcome to the Candover Valley Store
The Candover Valley Store is open seven days a week, offering a wide range of groceries, a place to meet and eat and a post office. As a community owned and run project, you are assured of a warm and friendly welcome, whether you're a local resident, a visiting walker or cyclist, or a regular commuter through the valley.
Annual General Meeting 2021
The Annual General Meeting of the Candover Valley Community Store was convened in-person at the Preston Candover Village Hall on Wednesday 17th November at 7:30pm.
For a full report of the meeting please view the minutes, chair's report, final signed accounts and summary pages.
---
Covid-19 Latest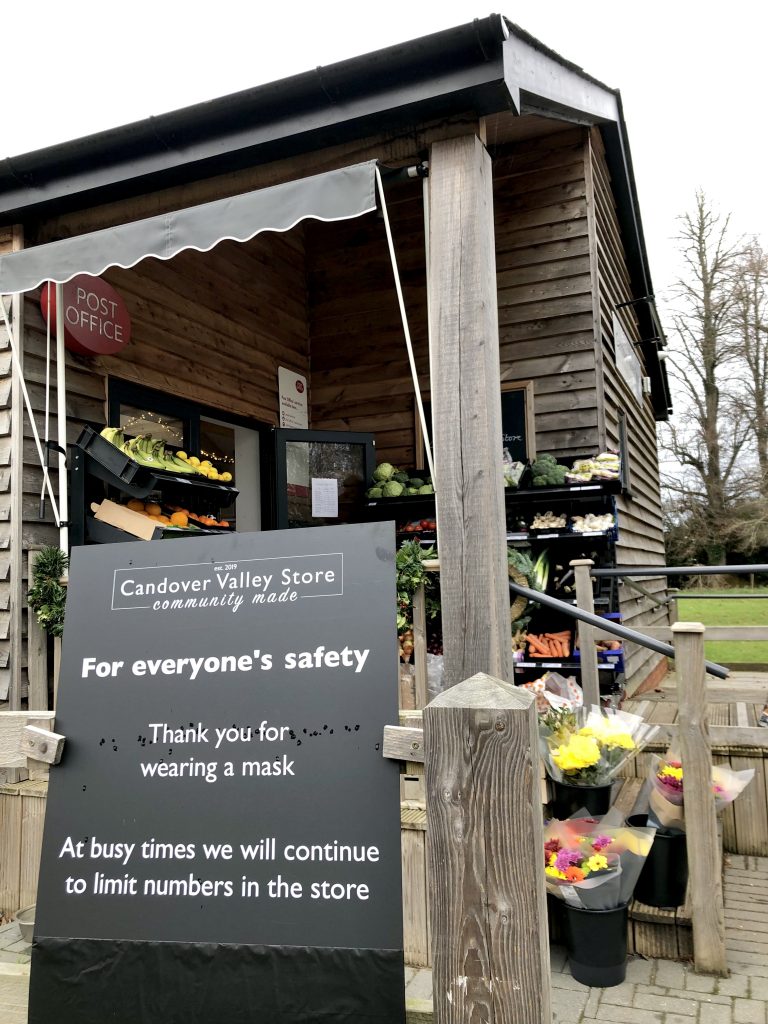 Since Covid-19 hit in early 2020, our staff, volunteers and customers have been presented with challenging operating conditions. We are very grateful for everyone's co-operation and goodwill throughout this time. Many messages of appreciation have been received, including this one:
"You guys are superhuman and total saviours of our village and surrounding area! We will all be forever grateful for everything you've done during this time. Thank you so, so much from the ***** family."
Stock availability – In common with most food retailers we are experiencing some occasional difficulties with supplies. Please bear with us as we try our best to keep the store fully stocked.
Social distancing and face coverings – We adhere to Government guidelines and follow official advice regarding distancing and mask-wearing. This means that from time to time we have to change what we ask customers, staff and volunteers to do. In line with revised rules, from Tuesday 30 November 2021, wearing masks in the store becomes mandatory once more. At busy times we may need to restrict the number of customers inside as we all have to share limited space. Please be assured that all surfaces and handles will continue to be sanitised regularly. We thank you for your co-operation in helping us to keep everyone as safe as possible.
Shop
We offer a range of everyday groceries, household products, chilled and frozen food, sweets and confectionery, gifts, beer, wines and spirits, pet food, over the counter medicines, cigarettes, tobacco, newspapers and selected magazines etc. Wherever possible we stock local produce, providing you with an authentic taste of Hampshire.
Meet and eat
Two tables have now been reinstalled at the rear of the store to allow customers to enjoy a drink and a snack indoors. On days when the sun is shining, customers may prefer to sit outside on the decking if it is open or at the picnic tables on the field. The choice is yours! We hope this will work well as the autumn and winter progresses. The situation will be kept under review as maximising the safety of those working in and visiting the store remains paramount.
The Post Office
The store includes a post office where you can buy stamps, send parcels, manage personal and business banking, and make applications for a variety of services and products.
Services
The Candover Valley Store exists to serve the community, so we offer additional services such as home delivery for older and housebound residents and prescription services. See our services page for further information. If you have additional ideas of services that could be provided, then please let us know.