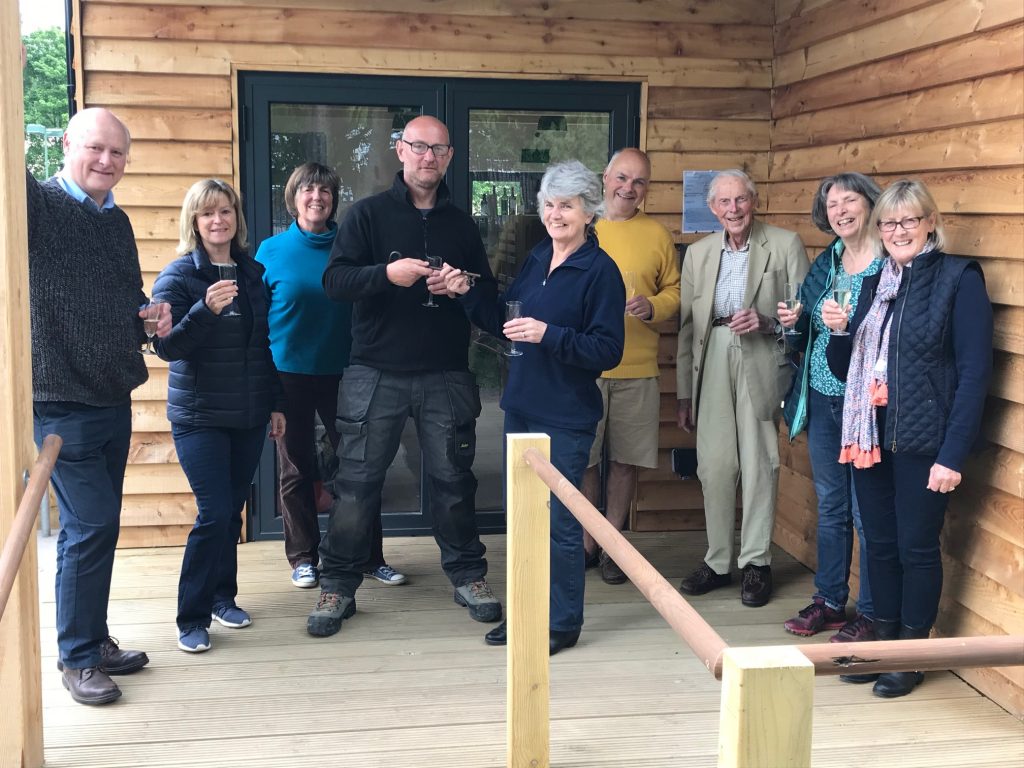 Six months after work started on construction of a brand new community store and post office in Preston Candover, the building has officially been handed over to Candover Valley Community Store committee chairman Jane Laws.  Christian McCabe, main contractor and owner of Alresford-based CPFM Construction presented Jane with the key outside the front doors of the building on Friday 17 May.
The 95sqm building is due to open for trading at 10.00am on  Monday 10 June once final fit-out and stocking is completed.  The post office will open the following day at 2.00pm. 
"This is such a milestone for us," said Jane Laws.  "It has been a long journey to reach this point and we are all so thrilled to see this lovely building coming alive.  Inside the store is a bright, airy space that will provide an array of useful and tempting goods available seven days a week as well as a cheerful welcome for locals and passers-by.  We are immensely grateful to everyone whose generosity and hard work has ensured this vital local amenity is not lost."   
Candover Valley Store will offer a range of groceries, fresh meat, fruit and vegetables as well as chilled and frozen foods with the focus on local produce wherever possible.  Greetings cards, gift items and wines will be available too.  A range of useful services will be available at the post office counter.
A small coffee area with tables and chairs will allow customers to relax while they shop and enjoy a hot drink with a slice of homemade cake or a sandwich and a chat with friends.  Free WiFi will also be provided.
The store will be open from 8.00am until 6.00pm during the week with shorter hours on Saturday and half-day opening on Sundays.
A team of volunteers will help to run the store alongside recently appointed manager Garry Green and local resident and mother of two, Emma Simpson in the assistant manager role.
Funds of £220,000 to build, fit out and stock the store were raised through a share scheme, donations from local benefactors and grants from a variety of institutions including Hampshire County Council, Basingstoke and Deane Borough Council, The Prince's Countryside Fund, National Lottery Awards for All and the Linbury Trust.
If you would like to help in the store, please review our information about volunteering. And it's still not too late to become a shareholder, with a minimum investment of just £20. Full details are in the Share Offer document.