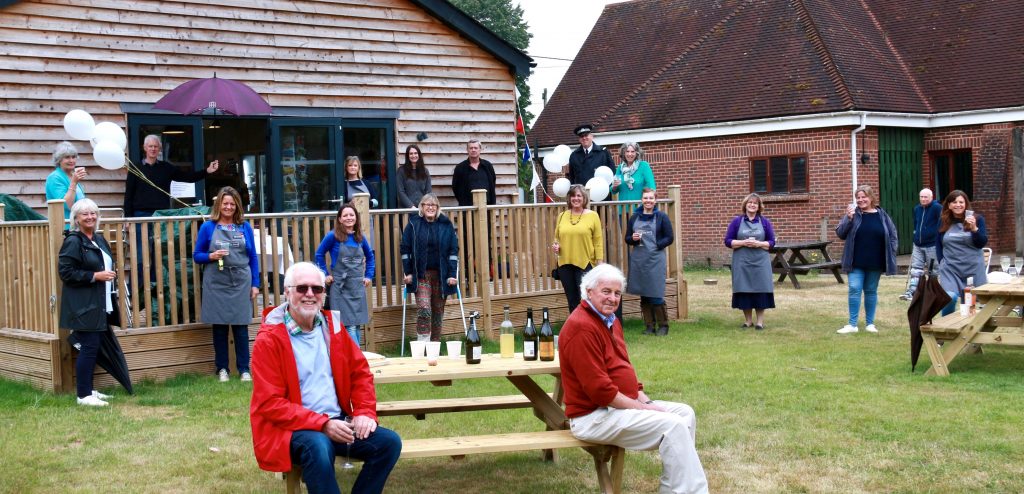 Past and present committee members, volunteers and locals gather in the rain to celecrate our first birthday
Candover Valley residents have been celebrating the first birthday of their community-run store and post office with cake and gifts for customers. Opened by Lord Sainsbury last June, the store has been a great success from the start, providing local people and visitors with a wide range of day to day groceries, fresh and chilled foods, gift items, wines and spirits, a coffee area and social hub (in more normal times) and of course post office services.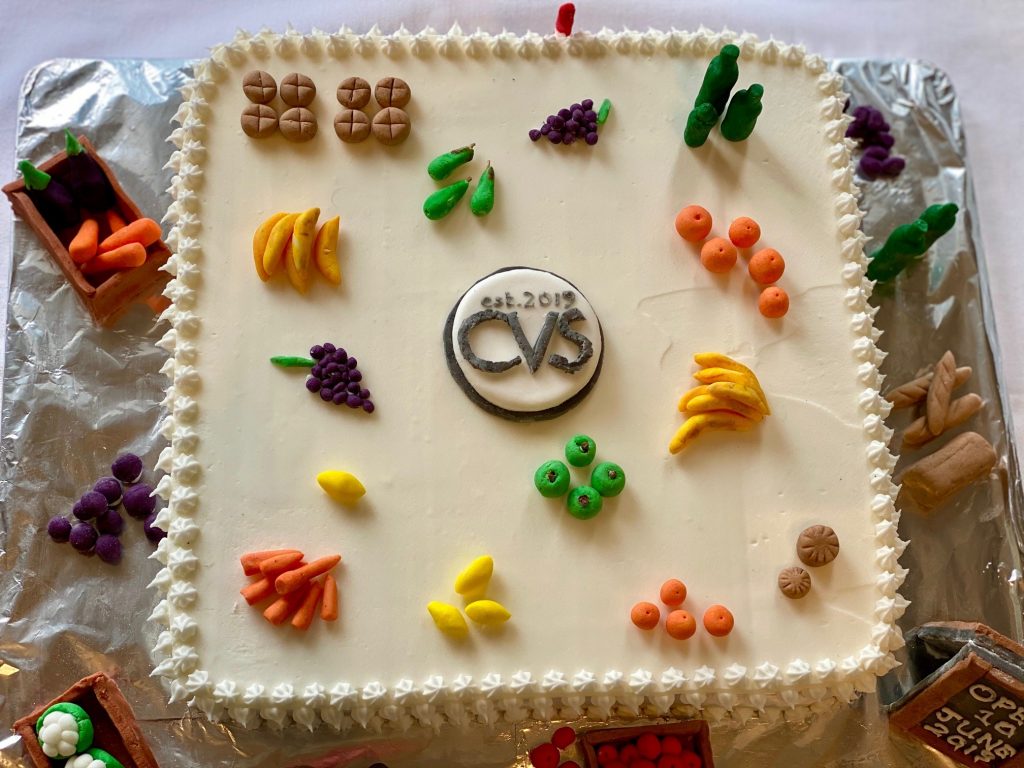 Since the March coronavirus lockdown, the store has been an even more vital resource, with many relying on it as their primary source of staples such as bread, milk, eggs, fruit and vegetables as well as for newspapers and other daily necessities. Even revised sales expectations have been exceeded during this period, as more of the community use the store more frequently. Keeping the fridges filled and the shelves stocked has taken a Herculean effort by manager Garry Green, his assistant Emma Simpson and the store's cheerful team of volunteers. Said Garry: "Demand is so high that it is challenging to source supplies and to get items back on the shelves quickly enough. As fast as we put stock out, customers buy it, which is why we're here of course! There's a great community spirit and we have had a lot of lovely compliments. It's proof that there has never been a better time for a local community store."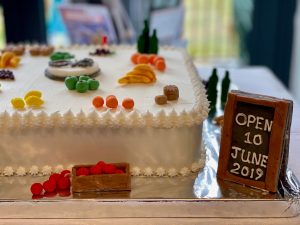 The cake tasted as good as it looked
To meet government guidelines, the store has been operating a social distancing policy, employing extra hygiene measures and has limited the number of customers allowed in the store at any one time. The decked area outside which was so popular as a fine weather meeting place for refreshments, is currently closed, although hot drinks are still available to take away and many people are chatting as they queue outside, two metres apart.
Regular customer, store supplier and owner of valley-based Moonroast coffee, Judy Bradshaw, said: "We would have really struggled as a community without our fabulous shop. It has been a life-saver for many of us, even managing to stock flour when it was impossible to find any elsewhere! Our own business has suddenly become much more reliant on posting coffee to customers and we are thankful to have the convenience of the post office, just up the road from the roastery."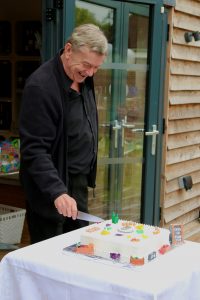 Store manager Garry does the honours
In the store's first year of trading, new initiatives such as the in-store bakery oven and panini toasters have successfully been introduced, along with the sale of newspapers and some magazines, and a small range of refillable, environmentally-friendly cleaning products. The management committee continues to strive to respond to customer needs and the store's offering will evolve further in future.
The support of the many people and organisations that have contributed to the setting up and ongoing success of the Candover Valley Store is much appreciated. Thank you to you all and if you have yet to visit, be sure a friendly welcome awaits.