Official Opening of Candover Valley Store by Lord Sainsbury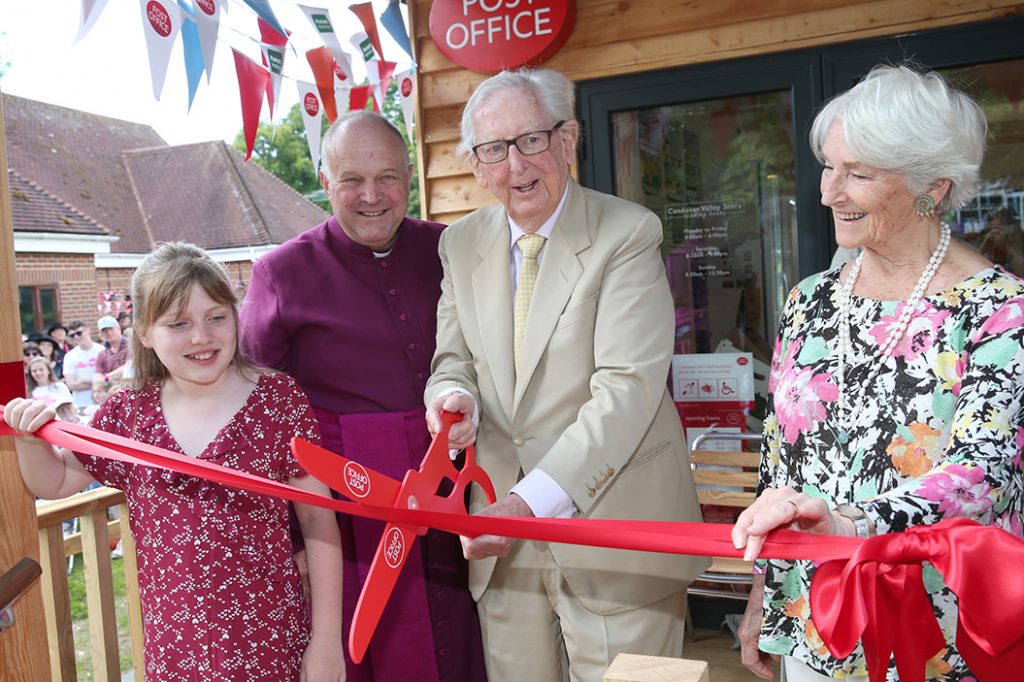 Lord Sainsbury has today (22 June) cut the ribbon to officially open the new community-run Candover Valley Store, coffee area and post office in Preston Candover.  He was assisted by Preston Candover CE Primary School pupils, Isabelle Cooke and Millie Hill winners of the keystage 1 and 2 categories of a poster design competition to mark the opening of the store.
At a big community celebration, a local ukelele band provided entertainment and guests enjoyed tea, homemade cake and ice creams.  Jane Laws, chair of the Candover Valley Community Store committee thanked the many local people and organisations who have supported the project and the Bishop of Basingstoke, Rt Revd David Williams, gave a speech and a blessing.
Lord and Lady Sainsbury and the Bishop of Basingstoke and his wife then enjoyed a personal tour of the 95sqm store, designed by architects ProVision and built by CPFM Construction, before joining other guests for refreshments.
Lord Sainsbury leased the land on which the store has been built and has given enormous support to the project in many different ways.
Lord Sainsbury, said: "I am delighted to open the Candover Valley Store.  Lady Sainsbury and I have been very interested in the project from the start some years ago.  We have watched it progress since building began last November and we are now very pleased to see it completed and open for business."
The store, which serves the villages of the Candover Valley, cost a total of £220,000 to build, fit out and stock.  This was raised through a combination of donations from many supporters, grants and a community share scheme which now has over 250 participants.
Grant funding has been received from National Lottery Awards for All; Prince's Countryside Fund; The Linbury Trust; Hampshire County Council; Basingstoke & Deane Borough Council; The LEADER Programme; The Plunkett Foundation and Power to Change.
The Bishop of Basingstoke, Rt Revd David Williams, said: "This is a true community undertaking, built by and for local people who really care about keeping their villages alive.  It is run by them too.  Volunteering at the shop is very rewarding for those involved.  It is a wonderful way of combatting rural isolation which can be a serious concern for both young and old."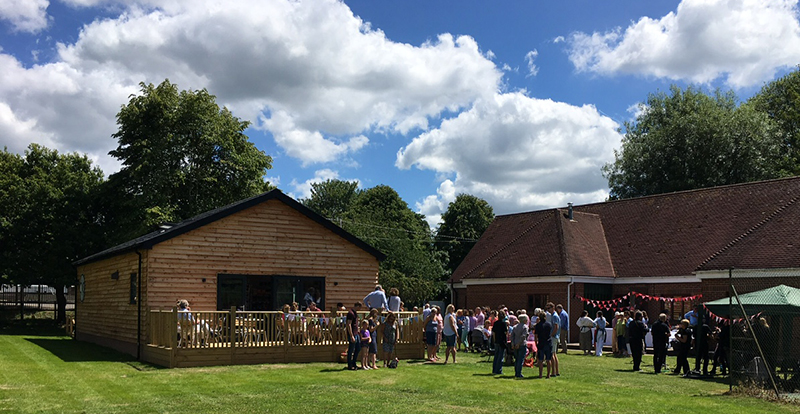 The store, post office and coffee area are managed by employees Garry Green and assistant Emma Simpson.  A band of 45 volunteers provide them with support on a rota basis and are vital to the success of the enterprise.  It offers a wide range of groceries and household essentials including fresh vegetables, fruit and flowers, chilled and frozen foods, prepared meals, baby food, cards, gifts and Hampshire-produced cheeses, artisan coffee, real ale and award-winning sparkling wine. Exhibitions of local art and crafts will be held from time to time.  In the true spirit of community, the store offers prescription services and will seek to assist older and housebound residents with home deliveries wherever possible.
A coffee area with tables and chairs tempts shoppers, passing hikers and cyclists to stay to enjoy locally roasted coffee, homemade cakes and sandwiches.  High chairs, free WiFi and USB charging points are also provided. An outdoor deck overlooking the glorious Hampshire countryside provides additional seating for sunny days and bike racks and tethering points (and water bowls) for dogs, mean that all visitors are catered for.
Richard Saunders, treasurer of Candover Valley Community Store committee said: "People are overjoyed with their new community store. We are ideally located in the centre of the village. It looks fantastic and there is a great welcoming atmosphere.  The shop is well stocked and we are supporting many local producers. It was crucial to keep a post office in the village, but we have achieved that and a great deal more.  The coffee area is already proving to be a popular meeting place."
Preston Candover Post Office is a new-style local branch with services provided from an open-plan counter alongside the retail counter.  Customers have access to a wide range of postal and banking services including cash withdrawals. The store is open Monday-Friday: 8am – 6pm; Saturday 8.30am – 5.30pm; Sunday: 8.30am – 12.30pm.  The post office is open: Monday-Friday: 8.30am – 5pm; Saturday: 9am – 12.30pm.